In honor of Larkin's haircut today, which I highly encourage even though she is fearful of haircuts and is therefore smoking like a chimney and is in need of a stiff drink, I have decided to post my hair recession over my lifetime

When I was born I was going for very short and manageable. I have noticed most people in their very early months opt for this type of hair-do.




We move forward to this fabulous photo of me in Kindergarten. According to my Mother, she cried when she got prints of this picture. Was it the missing tooth? Was it the God-Awful color of our graduating gowns? No, it was my hair that dismayed her so. According to her she had primped me to the nines and somehow in my youthful, boisterous ways I had managed to completely un-do all her work. Gee. Go figure Mom. But we can see from this photograph that my hair was indeed getting quite long!




Next we see that I am growing into quite the young lady. At the age of 12 I did what all 12 year olds do and I went and had Glamour Shots. Glamour my ass is what I say. Those aren't even full clothes I have on there! It is a half shirt/drape. Whatever. Anyway, my hair has lost its blonde, but has obviously had the shit teased out of it. I so very much loved that hairstyle then. I imagine if I had caught a good gust of wind I would have taken flight. Those hair wings are HUGE!




Here we see me atop a ladybug in Japan. Though difficult to see, my hair is actually down past my shoulder blades. My hairstyle at this point in my life was pull through a ponytail holder twice and style as a floppy hair mass on the back of my head.




Next we see some progression in my hair life. I actually get a style! These are my Senior sports pictures. I was genius to have let my hair grow out during basketball season so I could put it in a ponytail. Damn I was smart!




Next we have my actual Senior picture. On this day, around 10 years ago, I vividly remember that I had gone to have my hair cut and styled before picture time. I love the hair color and I am particularly in love with my weight. I still have those pants and I WILL fit into them again. Stupid beer and fast food.




We have finally made it into my 20's. I can only imagine my hair stayed the same from 17 till this 20ish time frame. If not, sorry, don't have the pictures on hand to show. Here I am in Athens, Georgia with Brian and Justin at a bar called The Globe. I can specifically remember this as being my first time trying Hefeweizen. God I love that beer. But back to my hair. Long, permed. Lovely.




Next we have Brian and I in Vancouver, BC. A little shorter, but still permed.




Now we have me at Annie's birthday party. Getting shorter, but still keeping that perm going.




This picture of me and my bro's was getting towards the last days of longer hair. Note I am still keeping that perm going.




Ah, here we are...finally starting cutting it down. I permed it and got it cut pretty darn short. I really liked this haircut actually...and you know what?!? I still do. Might go for that one again of these days.




Now we are getting into more recent days. This picture was taken about a year ago. The perm had grown out and I was working on some semi-long bangs and longer hair in the back.




Then I decided, NO, I think I am going to cut it all off the back and keep some long bangs.




Then I said, NO NO NO, what I am going to do is grow it long in the back AND the front spike it out and drink a little Tequila.




At Easter I decided to show my mini beer belly, grow my bangs out and cut it short and spike it in the back.




Now I have decided on this haircut. It is shorter bangs, cut short on top and short in the back. I can actually mohawk my hair if I want. I can also make it into a flat top.




I can't wait to see what my hair does in the next few years. Maybe it will finally be OK to shave your head by then!! Oh! How exciting!




Thank you Debbie (Office Mate) for this: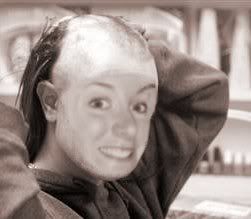 Leia Mais…